Christine Wormuth confirmed as first female secretary of the Army
BY SARAH CAMMARATA• STARS AND STRIPES • MAY 27, 2021
Christine Wormuth speaks during a Senate Armed Services Committee hearing on Capitol Hill on May 13, 2021. The Senate voted Thursday to confirm Wormuth to serve as Army secretary, making her the first women ever to hold the post as the service's top civilian leader. (Andrew Harnik/AP)
WASHINGTON — The Senate voted Thursday to confirm Christine Wormuth to serve as the Army's top civilian leader, making her the first woman ever to hold the post
President Joe Biden nominated Wormuth to serve as the Army secretary in mid-April only months after Kathleen Hicks was confirmed in February by the Senate as the first woman to serve as deputy defense secretary.
Wormuth, a former Pentagon official, drew praise throughout her confirmation hearing from Democratic and Republican lawmakers for her long record of service.
She previously worked as the undersecretary of defense for policy from 2014 to 2016 and before that as the deputy undersecretary of defense for strategy, plans and forces. She is now the director of the international security and defense policy center at the Rand Corp., a nonprofit research organization.
The Senate voted in favor of Wormuth for the position Thursday after a procedural snafu late Wednesday night caused her original confirmation vote to be reversed.
A Senate Armed Services Committee aide said there was a "mix-up" on the floor that forced Senate Majority Leader Chuck Schumer, D-N.Y., to undo her confirmation, which occurred just hours before by unanimous consent.
Sen. Jim Inhofe of Oklahoma, the ranking Republican of the Senate Armed Services Committee, congratulated Wormuth in a tweet Thursday morning.
"I look forward to working with her to support our soldiers in Oklahoma, across the U.S. and around the world," the senator wrote.
When she was first nominated, Defense Secretary Lloyd Austin called Wormuth a "true patriot" who has dedicated her career to serving the country.
Air Force unveils $38M research chambers at Wright-Patterson that tests altitude conditions on humans, equipment
BY THOMAS GNAU• SPRINGFIELD NEWS-SUN, OHIO • MAY 28, 2021
SPRINGFIELD, Ohio (Tribune News Service) — When Air Force or private sector leaders want to explore how human beings endure the stresses of high altitude, strong acceleration or powerful disorientation, they can turn to the 711th Human Performance Wing at Wright-Patterson Air Force Base.
"This is the place," said Lt. Col. Nathan Maertens, Aerospace Physiology Division chief at the U.S. Air Force School of Aerospace Medicine.
On Thursday, Wright-Patterson and Air Force leaders cut the ribbon on a series of chambers designed to test the effects of altitude on equipment and people at the Human Performance Wing. On hand was Lt. Gen. Dorothy Hogg, the Air Force surgeon general, and Maj. Gen. Healther Pringle, commander of the Air Force Research Laboratory (AFRL), among others.
The $38 million array of equipment ― dubbed the Research Altitude Chambers, or simply the "RAC" — isn't just a nice-tool to have for research, Air Force officials said.
The quartet of chambers joins the AFRL centrifuge and the Naval Medical Research Unit-Dayton's "Kraken" as a "trifecta of aerospace physiology facilities," assembled in one location, something that was envisioned as far back as the 2005 BRAC or Base Realignment and Closure Process, said Darrell Phillipson, acting director of the Human Performance Wing.
As a result of that 2005 BRAC, the School of Aerospace Medicine moved from Brooks City-Base in San Antonio to Wright-Patterson in 2011. The school had been in San Antonio for 85 years.
"At that time, in response to the BRAC, the Air Force capitalized on the value of integrating multiple human performance-related elements into a single unit," Phillipson said.
Such a concentration of missions was meant to "broaden the scope of human performance to accomplish research, training, education and consultation," he said.
And researchers have taken notice. Phillipson and Maertens said NASA and private rocket builder Space X, among others, have each tested cockpit equipment in the AFRL centrifuge, which can exert massive G-force pressures.
"They were working to design their cockpit modules to make sure they would be able to — under G-forces, under different parameters, when they're out there flying — be able to actually reach and interface with all the different switches that they need to use," Maertens said.
And researchers are already lining up to employ the new RAC chambers, the men noted.
The first RAC chamber, which was demonstrated Thursday, can hold up to 20 people and attain the conditions of a maximum altitude of 100,000 feet.
On Thursday, technicians pushed chamber conditions from 30,000 to 65,000 feet, more than double the height of the summit of Mount Everest.
(c)2021 Springfield News-Sun, Ohio
Visit Springfield News-Sun, Ohio at www.springfieldnewssun.com
Distributed by Tribune Content Agency, LLC.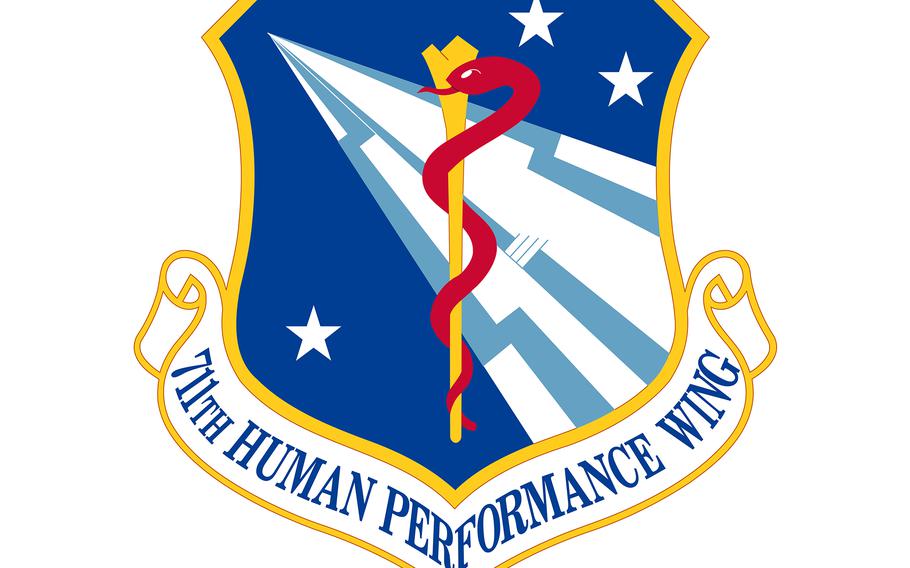 Navy needs to do a better job managing fatigue among sleep-deprived sailors
BY JENNIFER H. SVAN• STARS AND STRIPES • MAY 28, 2021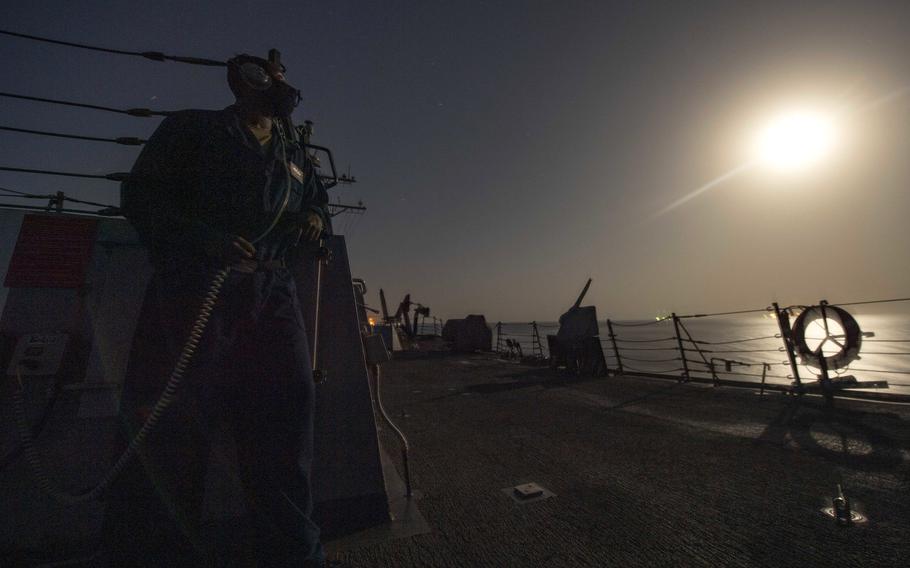 Seaman Aaron Henry monitors the horizon for surface and air contacts during watch onboard the guided missile destroyer USS Sterett in the Gulf of Oman in September 2020. A recent U.S. Government Accountability Office report says despite a 2017 Navy policy aimed at managing fatigue, the Navy has inconsistently implemented the policy and most officers are not getting adequate sleep. (Drace Wilson/U.S. Navy)
Sailors still are not getting enough sleep more than three years after the Navy issued a policy to address fatigue in the wake of two deadly collisions blamed in part on sleep deprivation, a government watchdog said.
Only about 14% of officers received the recommended seven hours or more of sleep during their most recent deployment, and 67% received five hours or less, the Government Accountability Office found. About 84% said fatigue-related conditions among the crew often or sometimes affect ship operations.
One officer "had observed other officers degrade to near senselessness while attempting to safely navigate a ship — because of leadership's disregard of sleep requirements," the officer told the GAO.
"The Navy is not ensuring that its sailors are sufficiently rested for optimal performance and safety," the GAO concluded in a report released Thursday.
While the service has taken steps to collect more information on fatigue in the surface fleet, it is not "measuring and managing fatigue in a timely manner," the report said.
The Navy committed to a comprehensive review of the ill effects of sleep deprivation following two separate deadly collisions in 2017 involving the guided-missile destroyers USS Fitzgerald and USS John S. McCain, in which a combined 17 sailors died.
In both cases, bridge watch standers had little to no sleep the night before the collisions, which impaired their situational awareness and ability to react to an emergency.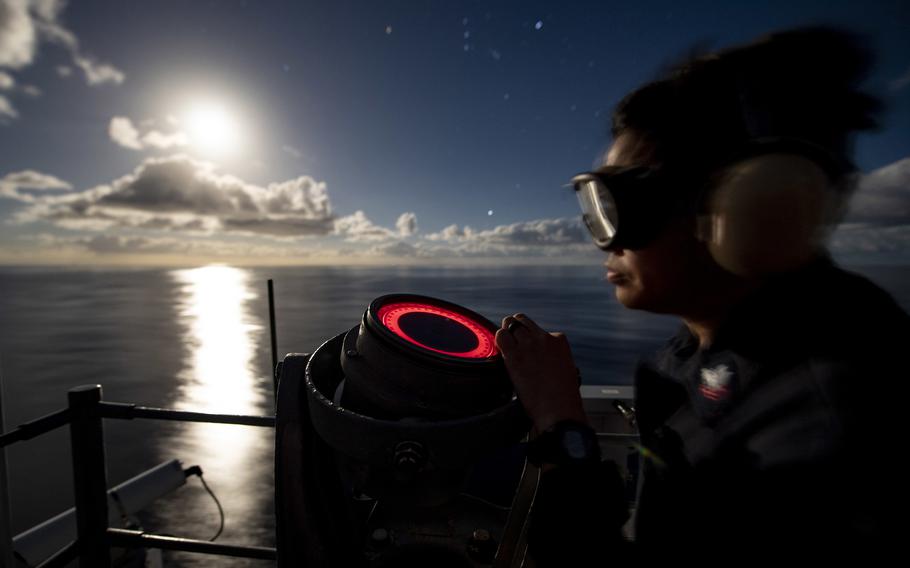 Petty Officer 2nd Class Edmond Nazareno checks a gyro repeater compass while standing watch aboard the amphibious assault ship USS Kearsarge in the Atlantic Ocean in 2018. A recent U.S. Government Accountability Office report says despite a 2017 Navy policy aimed at managing fatigue, the Navy has inconsistently implemented the policy and sailors still are not getting adequate sleep. (Mike DiMestico/U.S. Navy)
Overwork and training deficiencies were other root causes in the incidents, the Navy review found.
Sleep deprivation can impair job performance, yet active-duty service members are twice as likely as civilians to go without enough shut-eye, said a Pentagon report to Congress earlier this year.
The GAO's review from 2019 to 2021 was aimed at determining to what extent the Navy has acted to address sailor fatigue, resize surface ship crews to handle workload and improve training in the surface fleet.https://1a7607b38731de0d237f828a75f3fdae.safeframe.googlesyndication.com/safeframe/1-0-38/html/container.html
Much of the report addressed fatigue. After the 2017 collisions, the Navy directed commanding officers to establish a seven-hour sleep minimum, limit continuous work shifts to no more than eight hours and limit workdays to no more than 12 hours.
But those practices have been implemented inconsistently, the GAO found after surveying surface warfare officers who had been to sea in the last 12 months and who were responsible for managing the sailors who stand watch over critical ship functions.
Among its findings: Only 40% of Navy surface ships had implemented a seven-hour sleep minimum and less than 20% had limited workdays to a maximum of 12 hours.
"We estimate that 86% of officers received less than the target seven hours of uninterrupted sleep a day, and that most of these respondents were not able to supplement their lack of sleep with a two-hour continuous nap, per policy," the report said.
Workload, required meetings and drills were preventing adequate sleep, the Navy found in a separate survey. Both the Navy and GAO found that sailors spent the majority of their day working, which allowed for limited personal time, including sleep.
The GAO also found that the Navy routinely assigns fewer crewmembers to ships than its workload studies have determined are needed to safely operate them.
The Navy should revise its guidance and practices to better measure sailor fatigue and address the factors causing sailor fatigue and inadequate sleep, the GAO recommended.
It also suggested the Navy use required positions when reporting crew sizes and projecting personnel needs, and factor training into sailor workload. The Pentagon concurred with the recommendations.
Ohio Space Forum participants highlight roles of Air and Space forces
BY THOMAS GNAU• SPRINGFIELD NEWS-SUN • MAY 18, 2021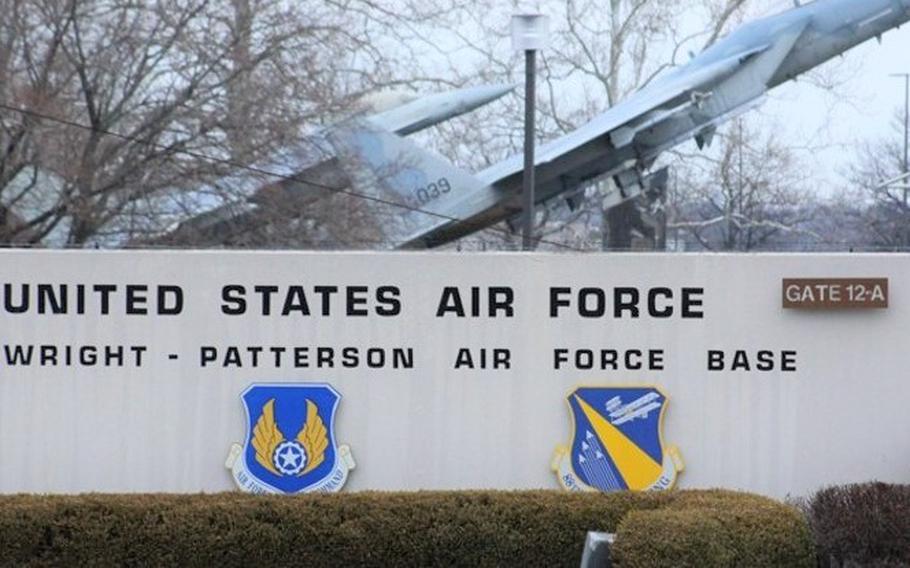 (U.S. Air Force)
DAYTON, Ohio (Tribune News Service) — In an era of growing danger in space, Ohio is playing a fundamental role, participants said Tuesday at the Ohio Space Forum.
That Ohio connection was impossible to miss, especially as one panel explored military and federal perspectives. On that panel, three of four members are based in Ohio while a fourth has a boss working at Wright-Patterson Air Force Base.
"I like to say that Dayton, Ohio, is not just the birthplace of aviation, but it also in my opinion is the birthplace of space intelligence," said Col. Maurizio "Mo" Calabrese, commander of the National Air and Space Intelligence Center (NASIC) at Wright-Patterson, whose 4,000 military and civilian employees analyze scientific and technical intelligence on the nation's adversaries. (The base itself has 30,000 employees, uniformed and civilian.)
In 1956, the then-Air Technical Intelligence Center, or ATIC, was assessing Soviet space capabilities. Not long after that. the center became the Aerospace Technical Intelligence Center.
"So space has been in our name since 1959," Calabrese said in the forum's virtual gathering.
Like the Air Force Research Laboratory (AFRL), also anchored at Wright-Patterson, NASIC is increasingly geared to serve two military branches — the Air and Space forces.
NASIC and its 18 squadrons these days are examining a number of threats, including how Russia and China attempt to jam American communication satellites, which would affect a wide swath of the military, Calabrese said. They're also looking at "kinetic" energy threats, such as anti-satellite missiles and aircraft.
NASIC is standing up the new National Space Intelligence Center at Wright-Patterson as part of Space Force. "Rest assured that the Air Force will have demands and needs and requirements of the Space Force and the Space Intelligence Center, to continue to help us with ISR (intelligence, surveillance and reconnaissance), assured communication, position navigation and timing, as well as the kind of threats (adversaries) pose to our air operations," the NASIC commander said.
"Our near-peer competitors have weaponized space. … Space is now an acknowledged warfighting domain," said Kelly Hammett, deputy technical executive officer for space science and technology for AFRL.
One AFRL supporting both the Air and Space forces means making a priority of protecting the "global commons in space," just as the U.S. Navy protects global trade lanes on the seas, Hammett said.
"That will drive much future investment and technology development," he said.
Working with the right private players and commercial partners is a big part of that job, he said, noting that AFRL will double its investments in "basic" space-focused research.https://75455506d9e17619ab1a07d0b510fc69.safeframe.googlesyndication.com/safeframe/1-0-38/html/container.html
Hammett encouraged companies to contact AFRL.
"The door is wide open. We are not selective," he said. "We are trying to leverage all partnerships in science and technology that we help us get after the mission."
Col. Kimberly Fitzgerald, commander of 178th Wing in Springfield, said she and her colleagues in the Air National Guard recognize that adversaries and competitors have been "upping their abilities."
"We absolutely as an enterprise are now laser-focused on ensuring that we maintain the U.S. dominance in all domains going forward," Fitzgerald said.
Asked by a moderator what "scares" him, Calabrese pointed to the growing amount of debris and objects in orbit and beyond. "It's looks like space junk, until it's not," he said.
He also mentioned threats of the future and threats unseen. What will come from the "dark side of the moon?" Calabrese asked.
Marla Pérez-Davis, director of NASA's John Glenn Research Center in Cleveland, noted that the United States is flying a drone helicopter on Mars and is preparing for an eventual return to the moon.
The Glenn center's economic impact in Ohio was more than $1.4 billion in fiscal year 2019, and according to Cleveland State University's Center for Economic Development, the center generates more than $700 million annually in economic activity and creates more than 7,000 jobs.
The $85 million helicopter that has been launched from the Mars Rover Perseverance carries a small patch of fabric from the lower left wing of the 1903 Wright Flyer, and the rover itself has additional, distinct Dayton-area technological connections, thanks to the University of Dayton and L3Harris in Mason.
Marine Corps Silent Drill Platoon to perform at Pro Football Hall of Fame
BY MARC BONA• ADVANCE OHIO MEDIA • MAY 28, 2021
U.S. Marines from the Marine Corps Silent Drill Platoon perform at The Basic School on Marine Corps Base Quantico, Va., Oct. 2, 2020. (George Nudo/U.S. Marine Corps)
CANTON, Ohio (Tribune News Service) — The Pro Football Hall of Fame will host the Marine Corps Silent Drill Platoon for a free performance at 2:30 p.m. Wednesday, June 2, and offer free museum admission to military members.
The performance is part of the hall's Military Appreciation Day.
The platoon, based in Washington, D.C., will perform on the hall's Field Turf, adjacent to the museum.
The Silent Drill Platoon is known for unique precision-drill work, discipline and professionalism. The 24-man rifle platoon wields hand-polished, 10 1/2 -pound M1 Garand rifles with bayonets.
Canadian-born engineer John C. Garand developed the semi-automatic rifle, was the first semiautomatic military rifle used as a combat shoulder weapon. The Army adopted the Garand in 1936.
The hand-selected soldiers in the platoon, which originated in 1948, train as infantrymen. They hone their skills at the Marine Corps base in Quantico, Virginia.
Marine equipment — including an Indoor Simulated Marksmanship Trainer, a virtual training program — will be available for visitors to check out.
All U.S. military personnel (active-duty, National Guard, Reservists and retired) will receive free admission to the Hall of Fame by showing corresponding identification. (Every other day of the year, military personnel receive $5 off admission.)
Troops Would See 2.7% Pay Raise Under Proposed DoD Budget
28 May 2021Military.com | By Stephen Losey
Military service members and civilian federal government employees would both receive a 2.7% pay raise under the proposed fiscal 2022 budget request released Friday.
In its first budget proposal, the Biden administration is asking for $715 billion in funding for the Defense Department in 2022, a 1.6% increase over the current year's budget of $703.7 billion.
The proposed budget would also provide an average 3.1% increase in troops' basic allowance for housing payments, and an average 2.3% increase in basic allowance for subsistence payments.
The proposed pay raise would be slightly lower than the 3% pay raise enacted in fiscal 2021. If approved, the 2.7% raise would mean an extra $183 each month for a major with more than six years of service, who makes nearly $6,800 per month. It would also mean roughly another $105 per month for an E-6 with more than eight years of service, who makes nearly $3,883 in basic pay.
For the first time since the 9/11 attacks, the Pentagon is not planning to break funding for the wars in Afghanistan and Iraq into a separate Overseas Contingency Operations, or OCO, fund. That move comes as the Biden administration is pulling all remaining troops from Afghanistan and winding down the nearly two-decade war there.
Funding for operations that formerly would have been funded under the OCO — long derided by critics as a "slush fund" for its lack of transparency and for being exempt from budget caps the rest of the DoD has operated under for years — will now be part of the Pentagon's standard budget. The military expects to spend $53 billion on OCO costs in 2021.
But the Pentagon is still budgeting $42.1 billion as part of the regular budget for "Direct War and Enduring Operations" costs. This would help pay for the military's "over the horizon" capabilities that would allow it to respond to emerging terrorist threats in Afghanistan after the military withdraws, among other things.
The Pentagon's budget for next year largely focuses on countering China, which it said "poses the greatest long-term challenge to the United States."
The military will also seek to help the nation wipe out COVID-19; address threats from Russia, Iran, North Korea and other violent extremist organizations, such as the Islamic State; modernize its warfighting capabilities and divest outdated and unnecessary programs; and focus on climate change as a national security priority.
The proposed budget includes more than $500 million for COVID-fighting efforts, such as vaccinating local populations. And it would set aside $617 million in new investments to make military installations more resilient and prepared for climate change. This issue has become more pressing in recent years, as the Air Force suffered severe damage to Tyndall Air Force Base, Florida, and Offutt Air Force Base, Nebraska, following a devastating hurricane and flooding, respectively.
The focus on China — which the budget called the nation's "pacing threat" — means big proposed budget increases for the Navy and Air Force, but a cut for the Army and other DoD organizations.
The Navy's budget would grow by 2.2%, from $207 billion to $211.7 billion. The Air Force's budget increase would be nearly twice as big, growing 4.3% from $204 billion to $212.7 billion.
The Army, however, would see its budget fall from $174.3 billion to $172.7 billion, a nearly 1% cut. Other DoD organizations would also lose $597 million in funding, bringing them to $117.8 billion.
The budget includes nearly $5.1 billion in investments for specific programs in the Pacific Deterrence Initiative to help stave off potential threats from China. This initiative seeks to modernize and strengthen U.S. forces in the region; improve logistics and maintenance; and stockpile equipment, munitions, fuel and materiel in the area; hold training and exercise programs for joint forces; improve infrastructure; and build up allies' and partners capabilities.
Although the military is planning to cut its total force end strength by about 5,400 in 2022, the growth in pay and benefits means personnel funding would still grow to $167.3 billion, $5 billion more than is expected to be spent in 2021.
— Stephen Losey can be reached at stephen.losey@military.com. Follow him on Twitter @StephenLosey.
Air Force Will See Substantial Cuts to Aircraft Fleets in Biden's First Budget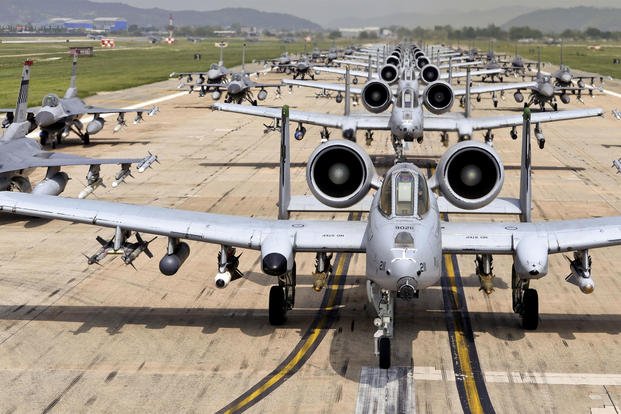 28 May 2021Military.com | By Oriana Pawlyk
In an effort to free up funds to invest in new aviation platforms and state-of-the art weapons, the U.S. Air Force wants to ditch more than 200 planes across its fighter, tanker, mobility, attack and drone fleets.
In the White House fiscal 2022 budget request, the Air Force outlines plans to get rid of 42 A-10 Thunderbolt IIs; 48 F-15C/D Eagles; 47 F-16 Fighting Falcons; 14 KC-10 Extenders; 18 KC-135 Stratotankers; 20 of the oldest C-130 Hercules transport or special mission aircraft models; 20 RQ-4 Global Hawk drones; and four E-8 Joint Surveillance Target Attack Radar System (JSTARS) aircraft, used for battlefield command-and-control.Advertisement
Officials are requesting $212.8 billion for the service, including "non-blue" dollars. That is money that is categorized under the Air Force but is not managed by the service; it would oversee $173 billion of that total. In the 2021 budget, officials asked for $207.2 billion, including "non-blue" funding, with $169 billion primarily supervised by the service.
Last year, Congress authorized the service to add roughly 1,500 airmen, including 900 active-duty troops. That equaled a total end strength of 507,755, including the Air National Guard and Reserve. But as the Air Force transitions more personnel into the fledgling U.S. Space Force, it will see a decrease of around 855 airmen, down to 506,900. The service saw record retention rates due to the COVID-19 pandemic, exceeding its active-duty end strength allowance, officials said in December.Advertisement
The Air Force intends to dedicate more funding to its research, development, test and evaluation (RTD&E) budget and modernization programs, with more than $1.5 billion slated for the Next Generation Air Dominance program, or NGAD. The program explores what future fighter jet and drone operations might look like; it wants $438 million for hypersonic weapons prototype work.
The service also hopes to dedicate $204 million to its new Advanced Battle Management System network, which fuses intelligence, surveillance and reconnaissance sensors and weapons across the globe and is intended to replace the JSTARS fleet. Last year, the Air Force requested more than $300 million for the program, but lawmakers slashed funding to $158 million, citing the need for a proof of concept and a lack of confidence in the "Air Force's structuring and execution" to justify increasing the program's budget.
It's not the first time the service has wanted to send planes to the aircraft boneyard, jettisoning the oldest and least-ready aircraft in favor of modernizing combat-capable fleets that can survive the next conflict.
Air Force officials first proposed eliminating more than 100 aircraft last year, including cuts to its B-1B Lancer bomber fleet. Congress allowed some retirements but stipulated the service must meet lawmakers' minimum requirements to be able to execute primary missions.
The U.S. Navy meanwhile will no longer request new F/A-18E/F Super Hornet aircraft, having ended the procurement phase of the program last year, according to its budget documents.
The service bought 24 Super Hornets each year for the last three years, but decided to end purchases of the frontline fighter to direct more funding toward its own "family of systems" NGAD program. The Navy has procured 678 Super Hornets for its inventory.
It will also end procurement of the P-8 Poseidon sub-hunter aircraft, something it first tried to do last year. The Navy wanted to nix new buys of the modified Boeing 737-800, which is specially designed for sea surveillance, in its fiscal 2021 budget. Congress instead enacted funding for nine P-8A aircraft.
The Navy also hopes to end purchases of the VH-92 Presidential Helicopter and MQ-4C Triton drone.
The latest cuts to aircraft fleets, among other programs across the Pentagon's overall budget, indicate officials are thinking about, "What is the capacity and capability the force we had versus what we're going to use?" according to a senior defense official, who spoke to reporters on background Thursday.
"There's other investments and divestments [and] we don't take everything out, but then you have to make tough choices," the senior defense official said. "You look at what you have and how it's going to be used." The official added that the A-10, for example, has value in air operations in the Middle East, but may not survive in a near-peer battle with Russia or China.
The Air Force plans to fund buys of new aircraft, but with caveats.
It will continue to purchase KC-46 Pegasus tankers; C-130 J model variants; and the latest HH-60W combat rescue helicopter, known as the "Jolly Green II." It also will increase its fourth-plus generation inventory of F-15EX Eagle II fighters, which entered the service's inventory last month, by 12 aircraft.
Similar to its requests in the 2019-2021 budgets, the Air Force wants 48 fifth-generation F-35A Joint Strike Fighter aircraft. Air Force Magazine earlier this month reported that the service is considering a 10% cut in F-35 buys over the next five years, citing a growing need to transition to the most up-to-date jets — known as Block 4 modernization — as they become available. However, those jets won't be ready until at least 2026.
The Navy wants 20 carrier-variant F-35C models and 17 F-35B short-take-off and vertical landing variants between it and the Marine Corps. Compared to last year, the service wants six fewer C-models, but seven more B-models, according to the budget documents.
While Congress allocated more funding to buy more F-35 aircraft last year — 96, instead of the 79 requested by the services — lawmakers have hinted that the practice of giving the services the option to buy more may be coming to an end, given that the program continues to be plagued with operational issues and cost overruns.
— Oriana Pawlyk can be reached at oriana.pawlyk@military.com. Follow her on Twitter at @oriana0214.
Fort Hood Soldier Arrested in Death of a Baby in Arizona
28 May 2021The Associated Press | By The Associated Press
TEMPE, Ariz. — An Army soldier has been arrested in connection with the 2019 death of his former girlfriend's baby, Tempe police said Thursday.
They said Khairee Patton was taken into custody Tuesday at Fort Hood in Texas where he is based.
Authorities said Patton was booked into the Bell County jail as he awaits extradition to Arizona where he's facing charges of second-degree murder, child abuse and failure to provide care.
It was unclear Thursday if Patton has a lawyer yet who can speak on his behalf.
Police said they were called to a Tempe hospital in January 2019 about an unresponsive 13-month-old child who arrived in critical condition and died.
The child's mother had gone to work, leaving Patton to watch him.
Investigators said Patton reported the baby hit his head on a stereo at the home.
But doctors said the injuries did not seem consistent an accident and appeared to be caused by abuse.
Fort Hood criminal investigators have been coordinating with Tempe police detectives since Patton's arrest.
Blue Angels Jet Hits Bird During Naval Academy Commissioning Week Flight Rehearsal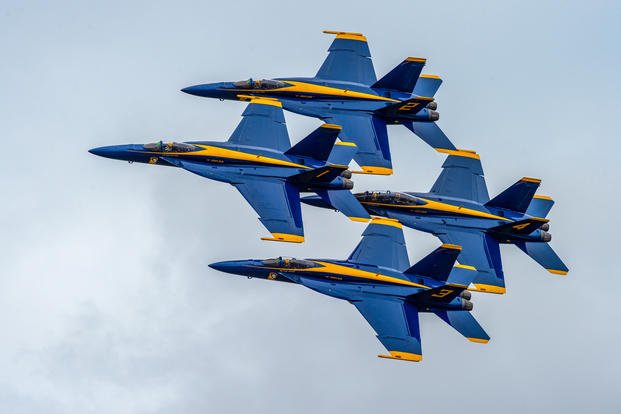 28 May 2021The Capital, Annapolis, Md. | By Lilly Price
A cormorant flying through the sky met an early demise Tuesday when it was hit by a Navy Blue Angels F/A-18 E Hornet traveling at least 120 mph during a flight rehearsal.
The Blue Angels were practicing for their flight demonstration during the Naval Academy Commissioning Week when boaters watching the show from the water saw a bird smacked down by a jet, as first reported by WNAV reporter Donna Cole.
Small aircraft parts were also dropped into the water and onto boats positioned in the Severn River near the 450 bridge. Natural Resources Police spokesperson Lauren Moses said officers were patrolling the area for security reasons and quickly secured the dead cormorant. Police did not obtain any aircraft parts, she said. The Federal Aviation Administration is investigating the incident.
A spokesperson for the Blue Angels said the bird strike minorly damaged some "flight control surfaces" of one of the F/A-18 E Hornets in the squadron.
"The aircraft damage was repaired by the squadron's maintainers and did not impact flight operations or the performance yesterday," Lt. Chelsea Dietlin said in a statement to WNAV. Dietlin added the Blue Angels will evaluate their Bird Aircraft Strike Hazard (BASH) program to minimize "wildlife hazards."Advertisement
The Blue Angels are scheduled to fly over Navy-Marine Corps Stadium at 10:04 a.m. Friday for graduation that is restricted to students and their guests during the coronavirus pandemic. Vice President Kamala Harris is giving the commencement address, which is traditionally given by the United States president, vice president, secretary of defense, secretary of the Navy, chairman of the Joint Chiefs of Staff, Chief of Naval Operations or another distinguished speaker.
Although graduation has capacity restrictions, anchoring a boat in the Severn River to watch the Navy precision flight team is a great Annapolis tradition on its own. Some residents boated out to watch the annual flight rehearsal Tuesday and the demonstration Wednesday.
The Blue Angels flew over the academy last year as part of the salute to graduating midshipmen, but the COVID-19 pandemic forced the pilots to cancel their shows.
Six rumbling jets make up a squadron that performs spectacular rolls, turns, spirals and other aerial acrobatics in formation. Jets range in speed from 120 mph to a maximum 700 mph, nearing the speed of sound. In one maneuver, the Diamond 360, the planes fly inches apart from each other. One single F/A-18 A Hornet costs around $21 million, according to the U.S. Navy Blue Angels organization based in Pensacola, Florida. The Navy flight school is based in Pensacola.
No one was injured by the falling bird or plane parts.
Navy Speeds Up Ship Retirements as It Ramps Up Investment in New Platforms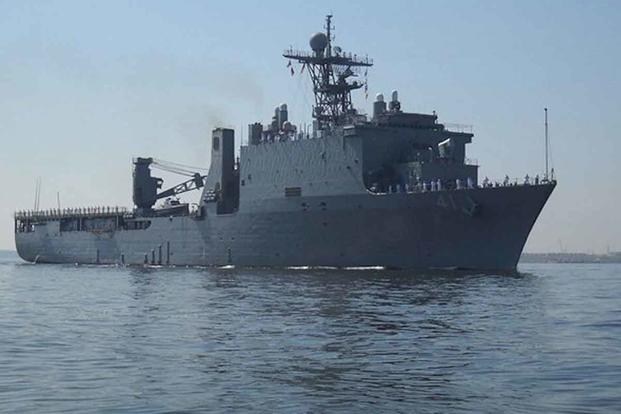 28 May 2021Military.com | By Hope Hodge Seck
The Navy is on a mission to transform the fleet with innovative new ship platforms — and it's forging ahead with plans to retire old ships to support that effort.
The service's $163.87 billion fiscal 2022 budget request, narrowly up from $162.9 billion last year, includes funding for a smaller fleet of 346,200 sailors, down 1,600 from last year's end strength. A Defense Department budget summary notes that the smaller force is due in part to the Navy's decommissioning plans, particularly the 2021 retirement of the amphibious assault ship Bonhomme Richard following a devastating fire.
"These reductions are partially offset by new construction crews on various platforms including Virginia-class submarines and Arleigh Burke-class destroyers," it notes.
While the Navy's most recent 30-year shipbuilding plan, released last December, included plans to decommission 48 active ships by 2026, the new budget request speeds up the retirement date for several platforms. Two Ticonderoga-class cruisers, the Hue City and the Anzio, were merely slated to be placed in reserve in 2022, alongside four other ships. The new plan would decommission them next year, for a savings of $369.1 million.Advertisement
An amphibious ship has also been fast-tracked for the retired list: The dock landing ship Whidbey Island, previously slated to be placed in reserve next year, is now headed for retirement. In Navy budget documents, officials said this move saves money in order to invest in future Light Amphibious Warships, a key feature of the Marine Corps' future fighting strategy. The Navy plans to save $200.3 million by retiring the Whidbey Island.
The Navy also reaffirmed plans to complete the retirement of its first four littoral combat ships, which began last year with the decommissioning of the first two. These ships, already sidelined for testing and experimentation, are simply not up to the task of deploying with the capabilities built into more recent LCSs.
"Decommissioning LCSs 3 and 4, primarily test platforms, avoids the cost to upgrade these ships to the common configuration and capability with the rest of the fleet," officials said in budget documents. The retirement will save $186.1 million, to be invested in the Constellation-class frigate, a better-built, more survivable successor to the LCS.
Some 12 MK VI coastal riverine patrol boats are also on the chopping block, a major shift in capability for the Navy.
"The final deployment for the affected coastal riverine companies is scheduled to be complete by approximately the end of 2021," officials said in budget documents, adding that other Navy platforms and Coast Guard boats would fill the mission gap for river patrol, escort and maritime force protection missions. Savings for dispatching the boats will total $74 million.
Beyond ships, the Navy plans to speed up the retirement of its classic F/A-18 Hornets, retiring the last 55 aircraft in fiscal 2022 rather than 2024 as initially expected. These fighters, now used by Navy Reserve units, will eventually be replaced by the F/A-18E/F Super Hornets the active force uses. In the meantime, officials said, the Navy will receive an undisclosed number of Air Force Fighting Falcons to fill the gap. The service expects to save $95.2 million in long-term support costs through this acceleration.
All these savings will be reinvested into the Navy's strategy to build its future fleet. By the end of fiscal 2022, the service plans to return to a fleet of 296 battle force ships, after dropping to 294 this year amid decommissionings. The Navy's shipbuilding procurement budget will dip 3%, from $23.3 billion this year to $22.6 billion. But it's buying a total of eight ships, down from last year's 10, and strategically funding development efforts for future platforms.
The procurement request includes full funds for a second frigate, and partial funding for two amphibious ships, an America-class landing helicopter amphibious assault ship, or LHA, and an amphibious transport dock, or LPD flight II, to replace the Whidbey Island.
A full $2.4 billion is slated for Navy research and development, up from roughly $2 billion in 2021. That includes investment in emerging classes of ships, such as the Ford-class carrier, the frigate and the Columbia-class submarine. But it also includes conceptual and early-development platforms. The request includes $98 million for design and development of a future attack submarine (SSN(X)), intended to be faster and stealthier than its predecessor Virginia class. It also spends $121.8 million to keep developing a next-generation large surface combatant (DDG(X)), the planned replacement for the Navy's workhorse Arleigh Burke-class destroyers.
An additional $27.8 million is slated for development of a next-generation logistics ship or NGLS, resupply and refueling vessel that would support distributed Marine Corps operations.
Another $365.6 million is allotted to drone ships, including the medium and large unmanned surface vessels, intended to speed up development of these assets, which play a key role in the Navy's future surface combatant strategy. Another $290 million is earmarked for unmanned undersea vessels.
— Hope Hodge Seck can be reached at hope.seck@military.com. Follow her on Twitter at @HopeSeck.